Have you ever received a different product then what you ordered online? The product that makes you go crazy thinking what am I supposed to do with this? This tends to happen more times when we are ordering clothes online. But we are always saved by the shopping site's return policy.
Zaful is one of the online shopping websites which offers amazing styles and variety in clothing. And this post is going to discuss Zaful's return policy.
What does Zaful's return policy entail?
Zaful Return Policy has a 30-day return policy. According to the online shopping website, if you have received a damaged or defective product then you can contact their customer support within 30 days.

If Zaful is responsible for the damage or defect of the product then they will make sure that you receive a refund for the product or an exchanged product. The website will pay for the shipping cost as well along with the product refund.
But product cost will be refunded only if it is the customer's responsibility for any wrong shipment. Customers will have to pay for the shipping cost, to and from. Also, if the customer wants to return the product because it is no longer useful then the website will only refund a partial amount.
Zaful Return Policy

Return Period
30 Days
Return Method
Online
Exchange Period
30 Days
Exchange Method
Online & From Warehouse
Refund Period
3-6 Business Days
Refund Method
Original Mode of Payment or PayPal
Official Website
Zaful Return Policy
Contact Number
What is Zaful?
Zaful is an online shopping website based in China. It has been in operation since the year 2013. The website is set to target young, edgy and daring souls with their products. It is a fast-fashion brand with its own in-house designers that work for the products they sell.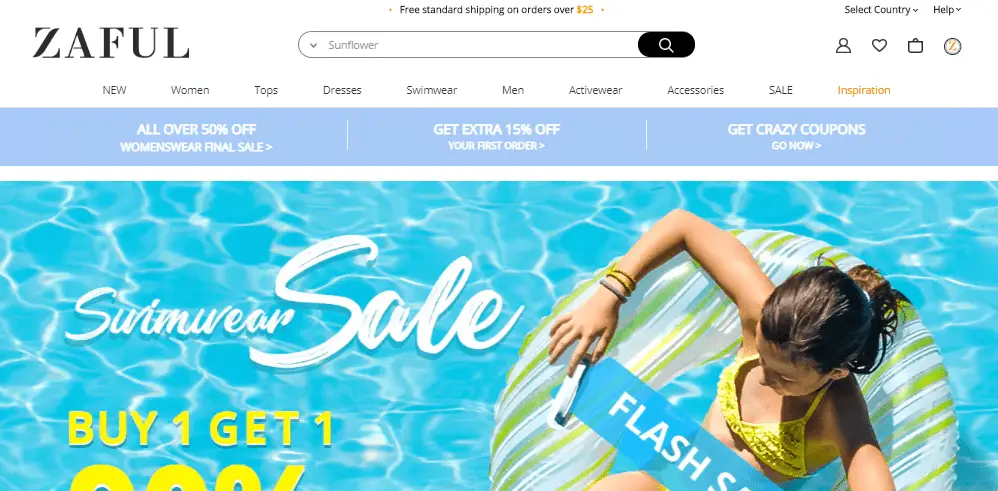 The online brand partners with 128 different suppliers around the world who provide the raw material to the brand. The website makes sure to mention to its customers that everyone involved in the chain of product supply and manufacture is under safe working conditions is paid a respectable wage. The mention itself shows that the brand is concerned about worker rights and workplace safety.
In their about us page for manufacturing, the website also claims to use water-based screen printing to help reduce their brand's carbon footprint. Now that's an environmentally responsible thing to do, right!
Perks of buying from Zaful
It is always more profitable to shop online than to shop from a retail store. Zaful being an upcoming online shopping website also offers some perks.
Free standard shipping for orders over USD$49. Of course, the amount does not include shipping costs. This is standard wherever Zaful delivers.
Faster delivery time. As compared to earlier, Zaful has decreased its delivery time to 6 to 8 days for standard delivery and 3 to 7 days for express delivery.
Delivery preparation time, which is about 3 to 7 days is not included in the shipping time.
Zaful has a page for customer Satisfaction Survey which takes feedback on their product and services from its users so that they can improve the quality and facility wherever they feel is necessary.

But what if you do not like the product that you bought from Zaful? Or if you want to buy another one instead of this? Or if it simply doesn't fit you right? Your answer is in the Zaful return policy.
How to return a product?
To return a product to the website, Zaful return policy states the following steps:
Visit Zaful Support Center
Write exactly what issue you are facing. This will include the reason why you want to return the product.
Mention your Order number and Stock Keeping Unit (SKU) number.
You must attach a photo or a video of the product if the product is damaged, defective, incorrect or not as shown and described on the website.
After sending it to the support center, the customer service team will approve your return.
They will give you a Return Merchandise Authorization (RMA) form along with their return address.
You then have to fill up the form and include it in the return package. The RMA form is important for returning your product. So make sure you don't mess with it or lose it.
Customers will have to pay all the shipping fees for the return.
To return any product to Zaful you have to be careful that it should be unused and/or unworn with all its original packaging and tags in its proper place. It should not be washed as well.
The product will only be refunded once the website receives it at their warehouse.
Exceptions in Zaful return policy
There are certain scenarios where Zaful will not approve of your product return. These are the exceptions:
If it is an intimate wear product, swimwear, lingerie, and any beauty product. But if this product is wrong or faulty, then the website will approve of your return.
The website will not accept products returned without the RMA form.
And lastly, you cannot return your product if it is not approved by Zaful's Customer Service team.
It is hence very much advised to keep the original tags and packaging of the merchandise intact till you are extremely sure that you don't have to return the product in any circumstance within 30 days.
How long will it take for Zaful return to process?
Once your return has been approved by Zaful's customer service executive, you can ship your package to the brand's warehouse.
After receiving your package, Zaful will take about 3 to 6 days to process it. Later, when the return has been processed your refund will take time according to the mode of payment that you used initially to buy the product.
Thus, if it is a Paypal refund, it will take around 48 hours to get your refund back. Similarly, if it is a wallet refund it will take about 24 hours for you to receive it. But if the refund is done by credit card then it will take approximately 7 to 14 business days to receive your refund.
EndNote
Like every other online shopping website, Zaful promises fast and secure product refunds in its return policy. And what sets them apart from others is their dedication to sustainable fashion and workforce.
Their efforts for safe and environment-friendly fashion will make you feel good about buying their products, whether it is clothing or accessories. And if it does work, you can always return it back.
Have you bought any product from Zaful or any other online fast fashion brand? What was your experience? Share it with us in the comments below and if you like this article, we recommend you to check out our other article on Asos return policy.