Easily return your products using free returns offered by Zappos. Read the complete Zappos Return Policy to know more.
About Zappos Return Policy
As we all know that Zappos belongs to the giant company Amazon, so they are aware of the competition in the market. Keeping this in mind they have made a generous Zappos return policy. You have 365 days to return an item to Zappos if you are not completely satisfied with their product. Zappos also provides you with the facility of free returns. This facility can be used by printing the free pre-paid return label. IKEA also has the same timeframe of 365 days for returning the items as per their Return Policy.
Points to consider while returning
Though they have provided you with a one-year long timeframe for returning the item, still there are certain points to be considered while returning.
Your return may be denied in some cases depending upon the specified reasons. So, the following points are to be considered while returning the item to Zappos:
The item should be returned within 365 days for a full refund in the original form of payment which you used while purchasing.
Returns must be unworn, and in the same condition as you received them.
Merchandise should be packed in its original packaging while returning to Zappos.
If your shoes or clothing item came with a security tag (or any other form of tag) then it should be returned with the tags attached.
Zappos Corona Virus Response
There was no other way than to close all the stores for the safety of the community. Corona virus can be spread very easily and therefore we need to take extra care. Zappos has closed their stores but online stores are open and the business is running with extra care like using masks, maintaining social distance protocol, etc.
Non-returnable Items
There is no such item which cannot be returned at Zappos, any product purchased from Zappos can be returned to them if it qualifies the Zappos Return Policy.
Shocked from the above statement, Yeah! seriously.
Here's the proof: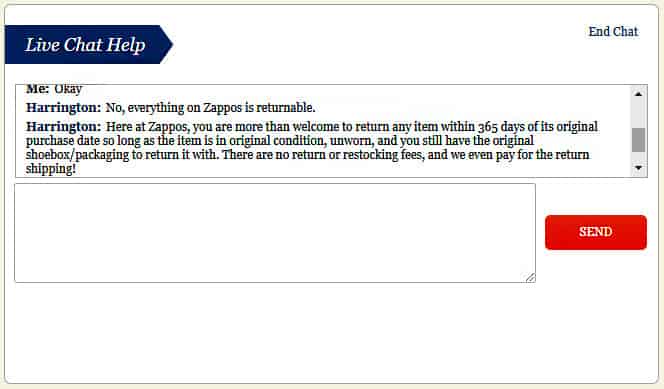 Return to Zappos
As we all know that Zappos only has an e-commerce store, so the only way in which you can return the item to Zappos is by mail. To make it more beneficial for you Zappos provides you the option of free returns.
The steps involved in returning the items at Zappos is as mentioned below:
Detailed Return process for Zappos
Follow the steps and instructions mentioned here to return your merchandise at Zappos:
Start your Return
Login with your account and from the "Account Review" check the items which you want to return.
Select the reason for return for each item.
Select the option through which you want to receive the return label (i.e Print or Email).
In case you select an option to receive the return label via Email, then take a print the print out of it then go through the upcoming process.
Press the "Submit Return" button.
Once you submit your return request, you will receive a confirmation email.
Prepare your Return
Pack the item(s) in the same packing in which it was delivered to you.
In rare circumstances, if you have lost the original package then Zappos will allow you to return your product in another Packing box only once.
You have to include the return request confirmation email for the items not returned in their original packing.
Prepare your Shipping Box
Put the packed items along with the printouts mentioned in the preceding steps inside the Zappos.com shipping box or any other plain cardboard box.
Remove the shipping labels, stickers or any other written material from the shipping box if any.
Seal the box properly and attach the UPS return label on your shipping box.
Drop your Package to the nearest authorized UPS location.
Your return would be processed once Zappos receives your return and then after the refund will be credited to you.
Return Process in brief
Zappos offers you an option through which you can return the item to them without paying any extra charge. To use this facility provided by Zappos, you have to return using the prepaid return label offered by them. The amount required for returning the
Also, check out other stores which offer free returns: Walmart, Target, Costco, and Macy's.
To return your product to Zappos following step are required to be carried out in chronological order:
Step 1
Go to My account and then from your Orders, select the item which you want to return.
Step 2
Print your free Pre-paid return mailing label and attach it to the original Zappos packaging box.
Step 3
Drop your package at any authorized UPS shipping center.
Exchange at Zappos
You can even exchange your items at Zappos if the Shoe or the cloth you purchased does not fit you. You can also exchange it for some other reason, but it must be a valid reason.
For exchanging your item you have to return the item in the same manner as mentioned in the section "Return to Zappos". Once you return it, then you can order the replacement item from Zappos.
When Zappos receives your return, they will inspect it according to the Zappos return policy. After verifying the return, they will send you the replacement order.
Zappos Refunds
On returning the items to Zappos it usually takes 5 to 10 business days to initiate the refund once they receive your product. Once Zappos initiates and credits your refund, it may further take 2 to 10 business days for the amount to be reflected in your bank account.
Zappos takes 5 to 10 business days to process the refund as your returned items first reach their Warehouse. After which your product is sent to Zappos fulfillment center, and then your items are checked as per the Zappos Return Policy.
Frequently Asked Questions
Zappos Customer service number
You can contact Zappos anytime on their customer service number at 1-800-927-7671.
Can you return shoes to Zappos after wearing them?
No, Zappos clearly mentions that you cannot return any worn items to them.
How long do Zappos returns take?
It usually takes 5-10 business days for Zappos to process your returns and credit you the refund.
Are returns free on Zappos?
Tes, you can return the item to Zappos for free using their pre-paid return label.
Summary
We hope you have got all the information on the Zappos Return Policy. And now it would be easy for you to make a return at Zappos and claim your refund.
Still, if there are any unsolved queries left, then don't let it be… simply ask us in the comments sections below and we would be happy to assist you with the solution.