Go through to get all the information on the ALDI Return Policy, as the return policy of ALDI is different for each country, so web portals of such countries have been added in the links for your convenience.
ALDI Return Policy
ALDI operates in different countries, so its Return Policy varies for different countries. However, the regional laws and regulations are also applicable to ALDI depending upon the region in which it is present. For the USA & Canada, the return time limit for returning the items purchased from ALDI is 90 days from the original date of purchase. Whereas for Australia and the United Kingdom, the return time limit is 60 days from the date of purchase.
At the end of this page, we have provided the link of ALDI for different countries. Simply refer to the section "ALDI in different Regions" in order to know the return policy of ALDI for your country if not mentioned here.
To make it better, you can even return everyday items, like food products, to ALDI for a full refund. In some cases ALDI also allows you to return the food products even if used. ALDI will happily credit you a full refund or provide you with a replacement of that product.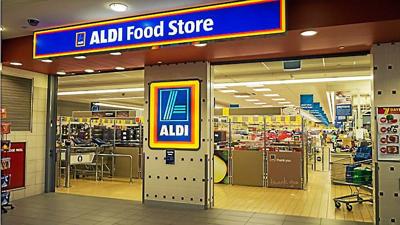 The Items must be returned to ALDI with all its contents and in its original product packaging.
ALDI's Double Guarantee Policy
As per the ALDI Return policy, if you are not 100 % satisfied then ALDI will replace your product as well as they will refund you the full amount for that item.

This type of return guarantee is one of its kind, and it is only provided by ALDI. Many other popular stores just offer 100 % money back guarantee, but no store other than ALDI offers such a great facility.
Methods to Return at ALDI
Whether you purchased from ALDI's physical store or online, you can easily return to them by going through the steps mentioned below.
Return at ALDI store
This is the simplest way to return your items to ALDI. Simply visit the nearest store in your locality along with the item to be returned. Also, carry the receipt of the product which you want to return.
Return by mail
Simply visit the official portal of the ALDI for your country and start your returns from the order history. All other processes would be visible as soon as you proceed with "Start a Return".
Aldi Corona Virus Response
There was no other way than to close the stores temporarily, this is because social distancing is the most important thing that can prevent corona virus from spreading therefore this will help people not gather on the store, we need to maintain social distancing as well as take other precautionary steps like sanitization.
ALDI in different Regions
Aldi operates internationally in the different parts of the world with different names. As per the latest data, there are 11,234 ALDI stores worldwide. The geographical distribution of ALDI is shown in the map below.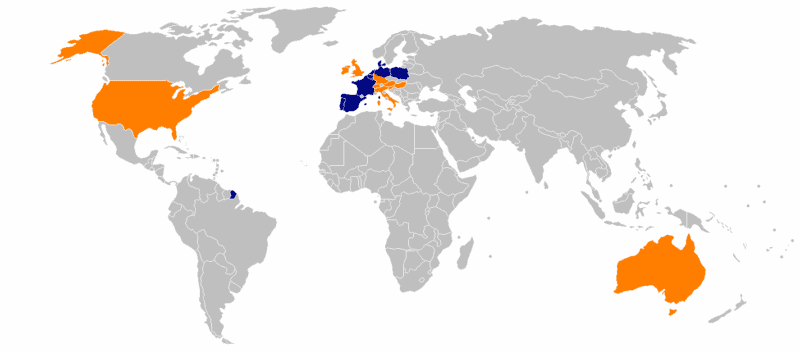 The blue part represents ALDI Nord, whereas the orange represents Aldi Süd.
From the above image, it is clear that ALDI Süd operates more in international locations. In contrast, ALDI Nord has fewer stores at international locations.
FAQs
ALDI UK customer service number?
You may contact ALDI UK Customer service on 0800 042 0800
Can you return food to ALDI?
Yes, If eligible as per the ALDI Return Policy, you can even return used food products to ALDI to get a full refund or replacement.
What is ALDI double guarantee?
As per the ALDI double guarantee, If you are not completely satisfied, then ALDI will exchange it for free. Even more, they will give you a full refund for that product.
How long does an ALDI refund take?
It usually takes 10 days for ALDI to refund you the amount. While on returning the products to ALDI the refund is immediately credited to you.
Are ALDI and Trader Joe's related?
ALDI Nord is the parent company of Trader Joe's. And, stores other than Trader Joe's in the USA belonging to ALDI are operated by ALDI Süd.
Summary
As we have discussed the overall ALDI return policy is far better than any other popular store in the world. Their return policy is certainly insane in a better way, just because they offer the Double Guarantee benefit.
Also, have a look at the Return Policies of other companies: JCPenney, Walmart, Costco, Guitar Center, Famous Footwear.
Don't forget to add your words in the comment box. You may also add your queries to get sorted. Also, provide us with your valuable feedback or suggestions and help us in improving our service to you.