Walgreens is the second largest pharmacy store chain after CVS Pharmacy in the USA, Simply go through the Walgreens Return Policy to easily return your items purchased from Walgreens.
About Walgreens Return Policy
The time limit on returning products according to the Walgreens Return Policy for most of the items purchased online from Walgreens.com is 30 days from the date of purchase. This time limit remains the same for the items purchased at Walgreens store. Other rules may vary from place to place depending upon the regional Laws.
Walgreens deals in many other retail stores other than the Pharmacy store so it has different rules and procedures for the items sold by them. Walgreens has both e-commerce platform as well as offline stores from where you can purchase the products from them.
Product Specific Walgreens Returns
As already discussed including Pharmaceuticals, Walgreens deals in many other retail departments. So in order to make you clear with the rules and the return procedure, here we bring you the department wise Walgreens Return Policy:
Pharmaceuticals

As per the Law, you cannot return prescription Items at Walgreens. Prescription items are not accepted for Returns as Walgreens does not resale or reuse these products in any way.
However, If there was an error caused in delivering the Prescription medications to you by Walgreens, then you may simply contact Walgreens. In this case, they will provide you a special authorization for returning your items.
In order to contact Walgreens simply Call on their customer service number at  1-877-250-5823 and specify them the error made by them in the prescription.
Contact Lens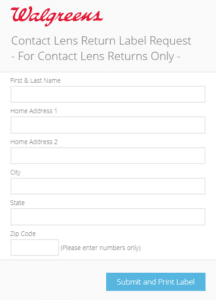 Contact lenses purchased from Walgreens can be returned to them within 30 days of purchase in the following conditions:
Walgreens shipped you wrong Lens(es).
The Lens was found to be defective or damaged when you received it.
You ordered a wrong prescription due to which you got a different product.
The Lenses must be sent in its original packaging in which it was sold to you by Walgreens. Walgreens will only accept your Lens if it is unopened, unexpired and the box in which it is sent is undamaged.
Walgreens has a different portal for generating the return label in order to return the Lenses. Simply visit wgreturns.com, fill in the details and click #Submit & Print Return Label.
After you Print the return label, you may continue with the return process as mentioned in "Return via mail".
Walgreens Photo

Walgreens accepts returns for the Digital Prints and Walgreens Photo if you are not satisfied by it in any way. You can simply return these products within the prescribed timeframe for a replacement or full refund.
In order to return online purchase of Walgreens Photo, call the customer service at 1-877-250-5823 to proceed further.
Electronics
In certain cases depending upon the reason and severity of return, you can return the Electronic items purchased from them. On returning these items, you will be provided the refund in form of Gift Card. You can use this Gift Card to purchase at any of the Walgreens stores.
Walgreens Corona Virus Response
Walgreens is a big name and it is crucial for them to remain open and therefore they are doing it while taking extra care of things. In this way we the people will keep getting necessary things we require in our day to day life. Walgreens are taking all kinds of precautions. They have reduced the store timings, provided protective masks to the employees, they have special service for senior citizens, they have a drive thru for pharmacy.
Returning Shipping Restricted Items
Special care is to be taken while returning shipping-restricted items. These items cannot be returned through the self-service return shipping label.
In order to return these items call the Walgreens Customer Service number, and they would assist you with the special shipping return instructions required to mail the Shipping Restricted Items.
You can contact Walgreens Customer Service number at  1-877-250-5823 in order to proceed with the special process required in returning those items.
Walgreens In-store Return Policy
Items purchased from Walgreens store can be returned to any of the Walgreens stores within 30 days of purchase. For the exceptional items, different rule or procedure is to be followed.
Similar to the Walgreens.com return policy, there are also non-returnable products for in-store purchase. So, these items once purchased from Walgreens store then it cannot be returned to them.
Walgreens Exchange Policy
Walgreens Exchange policy states that if you received the damaged items from Walgreens, then you can exchange it without paying any additional charge.
You cannot exchange gift cards, phone cards, and pre-paid cards except for the regions where required by Law.
Non-Returnable Items
At Walgreens, there are certain items which cannot be returned once purchased. These restrictions apply to both the items; the online purchase from Walgreens.com, and products purchased from Walgreens store.
Following are the items which cannot be returned once purchased from Walgreens: Birchbox BYOB (Build Your Own Box), Prescription medicines, Sexual wellness, and Seasonal Products.
Returns without receipt
It is possible to return the items to the Walgreens Store without a receipt. You have to show your photo ID to Walgreens while returning the items in this case.
On returning the items without a receipt, the refund would be provided in the form of Gift card.
Methods to Return online purchase
The items which you purchased from Walgreens.com can be returned either by visiting a store or by shipping it to their return center. Go through the following procedure in order to easily return your items:
Return at store

To return the items purchased online from Walgreens, go through the steps mentioned below:
Check whether your item is eligible for returns as per the Walgreens Return Policy.
Locate the nearest Walgreens store.
Take your product along with its receipt to your nearest Walgreens store.
Make sure to return your product within 30 days of purchase.
Wherever applicable, take the payment method (Credit card or Debit card) along with the return.
When you provide your payment method which you used while purchasing, the refund will be credited to you immediately in the same manner.
If you paid using PayPal or check, then you will be given the refund in cash.
Return via mail
In case there is no Walgreens store nearby, or simply you cannot go to store due to any other reason, you have an option to return the product by mail. All you have to do is go through the simple steps and follow the procedures in the chronological order:
Click on this link. After clicking, the Walgreens Return site will open.
Enter the Order Number and Zip Code.

Walgreens Online Returns Portal

After filling these details click on #Next button.
Now proceed with #Print Return Label.
Attach it to the package in which you have placed the items to be returned.
Don't forget to put the shipping receipt or invoice along with the product in the package.
Once you are done with the preceding steps, simply drop your package to nearest Post Office, Dropbox or Postal Carriers.
Note down the tracking number provided to you by the shipping service which you use. The tracking number would be used in future communication regarding the return of the product.
It would take a maximum of 30 days for your returns to be processed and the refund to be credited in your bank account.
FAQs
What is the Walgreens' Customer Service Number?
You can contact Walgreens on their tollfree number at 1–800–925–4733.
What is Walgreens return policy without a receipt?
Without a receipt, your return may be accepted at Walgreens store on providing your photo ID. For more information refer to section Returns without receipt.
Will Walgreens take back unused prescriptions?
No, Prescription items are non-returnable at Walgreens.
Can you return pictures to Walgreens?
You can return Walgreen Photo within the timeframe, full refund or replacement would be given to you in this case.
Summary
It would have been clear to you now that the Walgreens Return Policy is without any complications. This simple return policy will now help to make your Walgreens purchase and returns smooth.
Also, take a look at a similar company which is also the largest Pharmaceuticals stores chain in the USA: CVS Pharmacy. Other stores which you would like to check out are Home Depot, Best Buy, Costco, Ulta Beauty, Target and Walmart.
Ask your queries in the comments to get is solved quickly. You may also leave your suggestions or feedback in the comments.